As poet and painter Etel Adnan (1925-2021) wrote, love is "not to be described, it is to be lived." This is the theme of a new exhibition at Atlanta's High Museum, which traces a thread of affection, sentiment and selflessness through contemporary art. At a time of redoubled global strife and conflict, it explores the languages ​​and symbols of love as expressed through painting, sculpture, photography and mixed media from 1987 to 2021. The show is presented as a bulwark against the political despair of the present, whilst acknowledging the mysteries and riddles of its subject matter.
In a secular world, love tends to be interpreted as personal – generally as romantic or erotic, familial or platonic — expressing a bond that ties together a small number of people: a family, friend group or pair of individuals. But love has historically held much wider and socially powerful roles. From Greek philosophy to medieval mysticism and the subcultures of the 1960s, the language of love has at different times inspired duty, revolutionary sentiment and more.
The High Museum's curators chart a path between the personal and the philosophical, the sexual and the social. Entitled What Is Left Unspoken, Love, the show is divided into six sections. The first, "The Two", explores the ways in which couples love each other. Chinese photographer Rong Rong (b. 1968) and his Japanese collaborator inri (b. 1943) contribute a set of 16 extraordinary, ethereal images documenting a ritual undertaken at Mount Fuji to commemorate their wedding (In Fujisan, Japan, 2001). The second section widens scope to consider familial ties, presenting the home as a "School of Love" where the first bonds of affection develop. Here we find selections from Carrie Mae Weem's (b. 1953) landmark photography project The Kitchen Table Series (1990): staged images of ordinary family life.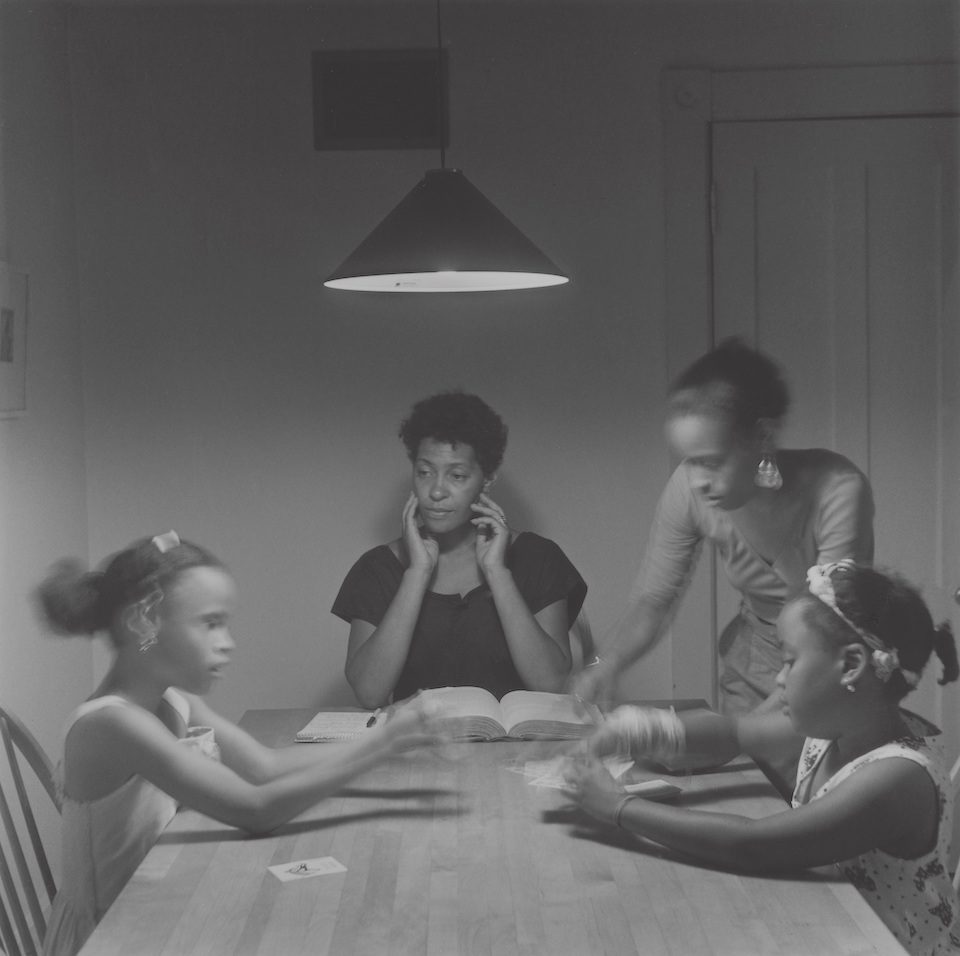 The third thematic cluster engages with the notion of "loving community", taking inspiration from Martin Luther King Jr.'s vision of a society based on brotherly love, and featuring works by Rashid Johnson (b. 1977) and others. "The Poetics of Love" shifts focus to the expression of love through the written and spoken word. Egyptian sculptor, painter and textile artist Ghada Amer (b. 1963) created 2012 work The Words I Love the Most (2012) by casting a hollow bronze ball out of Arabic terms associated with love, written backwards to capture the ineffability of their topic.
A final section, "Love Supreme", tethers love to religion: in particular the idea of ​​the divine as love's ultimate source and subject. A new iteration of Rafael Lozano-Hemmer's (b. 1967) Pulse Room (2006) records the cardiac rhythms of viewers, translating them into a light signal spread across whether a grid of bulbs: a beautiful evocation of our personal connection to forces beyond ourselves, social or spiritual. "Recognising that division and separation are prevalent in our current moment," says Rand Suffolk, High Museum Director, "we hope that What Is Left Unspoken, Love will remind audiences of the common thread that brings us together as families, friends and as a community."
---
What Is Left Unspoken, Love runs at the High Museum, Atlanta, until 14 August. Find out more here.
Words: Greg Thomas
---
Images:
1. RongRong&inri (Chinese, born 1968; Japanese, born 1973), In Fujisan, Japan, 2001, gelatin silver print, from a set of sixteen, collection of Julia Walsh, Chicago. © RongRong&inri
2. Ghada Amer (Egyptian, born 1963), The Words I Love the Most, 2012, bronze with black patina, courtesy of the artist and Marianne Boesky Gallery, New York. © Ghada Amer/2021 Artists Rights Society (ARS), New York / ADAGP, Paris. Photo: Christopher Burke Studios.
3. Carrie Mae Weems (American, born 1953), detail from The Kitchen Table Series, 1990, twenty platinum prints and 14 letterpress texts, private collection, New York. © Carrie Mae Weems/courtesy of the artist and Jack Shainman Gallery, New York.